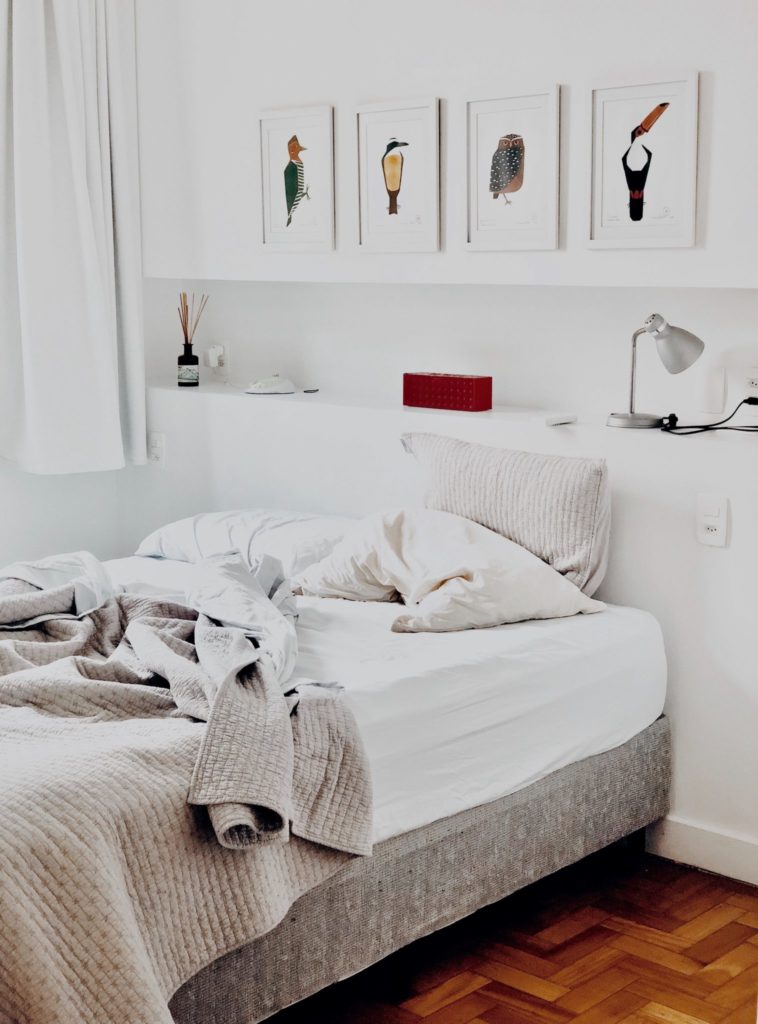 A guest room should be a haven for weary travelers far away from home. And if your guest room feels cozy and comforting, staying there might entice your long-distance loved ones to come and stay more frequently. Making these 10 tweaks will transform a basic bedroom into a true home away from home.
1. Pick Serene Paint Colors
Patterned wallpaper or neon shades are fine for your own space, but a soothing spa-like palette is ideal for a guest room. Give the walls a fresh coat of soft gray, pale blue or sunny yellow – they're welcoming and neutral, perfect for a guest room.
2. Make the Lighting Adjustable
Some guests will want bright overhead light; others may prefer softer lamp lighting. Provide options by bringing in bedside lamps with three-way light bulbs and installing a dimmer switch to control overhead lights. Add a nightlight to help guests find their way around if they get up during the night.
3. Offer Temperature Control
Your ideal home temperature might be too hot or too cold for the comfort of your guests. Drape cozy fleece throw blankets over the bed and provide a small space heater or even a hot water bottle in cold weather. Place a few fans in the room for guests who run too hot.
4. Add Fresh Flowers
Fresh flowers are always a symbol of welcome. Before guests arrive, place a small vase of fresh blooms inside the room. Don't know your guests' floral preferences? Opt for flowers with minimal scent, like calla lilies or tulips. Visitors who are sensitive to strong smells should appreciate the thought.
5. Make Music and Earplugs Available
Your home may be much quieter or much louder than guests are used to. Provide a white noise machine and/or a bluetooth speaker for playing music, as well as ear plugs in case your home proves to be too noisy for light sleepers.
6. Anticipate Tech Needs
Most travelers carry gadgets of some kind when they travel. Stock the guest room with spare chargers in a few different types and a framed notice of the WiFi network name and password.
7. Choose Sleek, Soft Linens
Scratchy, threadbare sheets scream "motel," not "retreat." Make the bed with crisp cotton sheets and a patterned comforter or quilt. The pattern should add some visual interest to the space and minimize the appearance of any spots or small stains.
8. Cover the Windows
Let guests control the amount of light and privacy they're afforded. Hang sheer curtains or blinds and a set of curtains that completely block out light, in case your guests are late risers who don't want to be woken up by the sun.
9. Pump Up the Pillows
Guest room pillows should be thick, supportive and plentiful. Place at least two pillows on either side of the bed. Skip the throw pillows; guests just end up tossing them on the floor.
10. Upgrade the Mattress
Decorations, curtains and extra blankets are important features of any welcoming guest room, but if you can only make one upgrade to the room, make it the mattress. Providing a comfortable and supportive bed is the single more important thing you can do to make your guests feel at home in your space.
Is your guest room a tight squeeze, or have dimensions that make standard size mattresses impossible to fit? If so, a Tochta mattress is the solution. Tochta's custom mattresses are customizable, so yours can be created to perfectly fit into your space. Choose from three mattress types: Journey, for customers who want a great mattress at a low price; Utopia, a high-end luxury sleeping surface with memory foam; or Divini, a mattress that can be adjusted on both sides for partners who have conflicting sleeping preferences. Tochta mattresses are shipped to you for free, making it quick and convenient for you to set up your dream guest room.
With serene decor, plenty of cozy comforts and a customized Tochta mattress set up in your guest room, you might find yourself sneaking into your own guest room the next time you need a break – or a really good night's sleep!